2000
Gli Ulissidi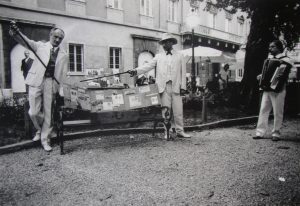 Elena Vitas directed Gli Ulissidi, produced with ContradeAperte. This was an 'itinerant play' which wound its way through the 'Old City' of Trieste and recreated the wanderings of Leopold Bloom and Stephen Dedalus through the streets of Dublin in the persons of Svevo and Joyce. The play also utilised a Duchamp-like 'portable Museum' created especially for this production by the designer Roberto Bilucaglia.
Gli Ulissidi will be produced again during the celebrations for the centenary of Joyce's arrival in Trieste, in 2004
---
1999
Ulisse: ovvero tu mare grega
the title of which was taken from Joyce's famous letter to Svevo in Triestine dialect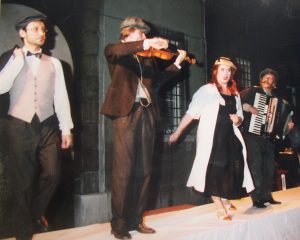 Was written and directed by Elena Vitas, in collaboration with the Svevo Museum and the La Contrada Theatre Company. The play was presented in conjunction with the exhibition "Caro signor Schmitz…/ Dear Mr. Joyce".
The first part, entitled Casa Joyce: Piazza Hortis n°4 included portions of Ulysses, Joyce's letters and Gulliver's Travels, the epic satire by another Dubliner, Jonathan Swift, interspersed with Irish music and ballads performed by Carlo Moser (accordion and piano), Lorenzo Chiandussi (violin) and Elena Pontini (soprano). The second part, entitled Giacomo Joyce, an Irishman's Poem of Trieste, traced the friendship between Joyce and Svevo  based on their correspondence and Joyce's poetry.
Nora
In July/August many scenes of Pat Murphy's film Nora, with Ewan McGregor and Susan Lynch were filmed in Trieste.
1993
The Joyce Festival of Trieste offered an extremely rich container for numerous muscial and theatrical productions. The festival lasted the entire month of October and included:
Roba de mitico palcoscenico, a brilliant theatrical piece by Silvio Fiore, with music and dance, inspired by Joyce's encounter with Ettore Schmitz;
Otto poesie da un soldo by Bilucaglia and Sillani, a work on magnetic tape with diaprojectors and music and scenography inspired by Pomes Penyeach;
Anna Livia Plurabelle, in the Italian version co-translated by Joyce and interpreted by the actress Sandra Cosatto;
Molly Bloom's monologue directed by the television director Pierpaolo Venier (who had previously produced a video on the influence of the Triestine dialect on Joyce's prose) and performed by Ariella Reggio in a version in Triestine dialect;
Un bel dì vedremo… dedicato a Nora e James a recital  by the American soprano Marion Vernette Moore;
A Portrait, a musical version directed by Francesco Accomando with Giulio Venier on the violin;
Dedicato a Zois, a concert;
an imaginary journey of Joyce's pupils at the Berlitz School through Triestine and Irish popular music sung by the Silvulae Cantores Choir of Trieste, conducted by Giuseppe Botta;
Concerto per Joyce with a programme of Greek Orthodox hymns, and compositions by Antonio Smareglia, Banfield, Berio, Cage, Vidali and Viozzi. The concert also included the Trieste Youth Choir, conducted by Michele Stolfa, accompanying five singers from the Verdi Theatre of Trieste.
Movies
The following movies were shown during the Festival:
The Faithful Departed by Kieran Hickey;
Is there One who understands me? The World of James Joyce by Sèan O'Mordha;
The Dublin Suite by Godfrey Graham (who was present during the showing);
A Painful Case by John Lynch, produced by Radio Telefìs Eireann;
A Portrait of the Artist as a Young Man by Joseph Strick (Italian premiere);
Ulysses by the German director Werner Nekes;
Exiles by Donald Farmer (RTE), the video Edith Clever Liest Joyce, based on Molly Bloom's monologue, by Hans Jurgen Syberberg (ORF)
The Dead by John Huston.
In addition to the above events, we should also mention the theatrical productions promoted by the Biblioteca Civica  in collaboration with the La Contrada Theatre Company and directed by Elena Vitas, an extremely gifted and active theatrical director whose recent premature death was a great loss for the City of Trieste. These were all outdoor productions, and were presented in Piazza Hortis, directly in front of the Biblioteca Civica, or in the adjoining streets.